Empower
The Breaking Free Show TM:
September 23rd Guest - Kelli and Ari King-Tanghe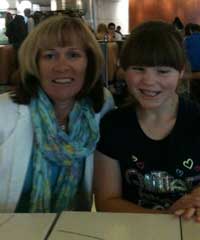 Team Ari is a mother/daughter endurance racing team. Ari is a 13-year-old with cerebral palsy and visual impairment. Upon entering middle school last year, Ari asked to run with her mother, Kelli, just as her older brother and sister had for several years. After hearing Ari's request, Kelli knew she needed to act upon Ari's dream and make it happen. So Team Ari was officially "born" on September 1st 2012, when Kelli pushed Ari in her wheelchair at her first 5k-road race.
Ari was bit by the "running bug" and eager to participate in more races at longer distances. After contacting Team Hoyt in Boston, Kelli was able to borrow an adaptive running chair from the MyTeamTriumph organization to safely push Ari in a half-marathon, 20 miler, and full marathon races. This year the mother/daughter team is conquering 'Celebrate 13' by hitting the pavement and running 13 half-marathons to honor Ari turning 13 this past April.
As of this date they have successfully run 15 races, which include 8 half-marathons. Their philosophy is "Yes We Can Cross any Finish Line"! It is their goal to encourage athletes of any ability to participate in endurance races. Someday they would like to see every road race offer an assisted athlete division so that all individuals in push chairs will be included, registered, and timed accordingly. At every race they raise awareness and spread the word about the inclusion of assisted athletes. Their message is a positive outlook for any individual who may possess a differently- abled body.
Team Ari was recently featured in Something Special Magazine, Fall 2013 Issue.
Team Ari was also honored to be highlighted as "Women You Should Know", April 10, 2013 at Womenyoushouldknow.net
Live Streaming Video
http://www.nissancommunications.com/breakingfree.php
Callers welcome: 919/518.9773