Empower
The Breaking Free Show TM:
October 1st Guest - Michael Hronas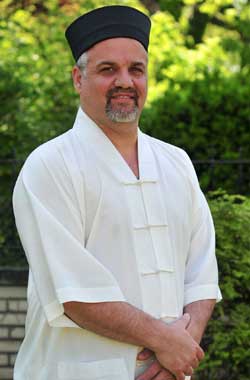 Michael Hronas transitioned from 28 years in the manufacturing world to becoming the Owner and Founding Instructor, Shifu, of the QiGong Institute of Healing and Wellness a company dedicated to the good health and well-being of its members. Since its inception, the Institute has developed a strong methodology and practice of teaching Chinese Medicine, Medical QiGong, QiGong and Taiji. Michael is studying in the Ancient Art of Medical QiGong in Palm Desert, California and recently completed his Therapist Level Training study.
He has also traveled to China and was ordained into the 22nd generation of the Dragon Gate Sect of Daoism. He established the name of The Temple of Balance and Harmony as the name that is ready for the building to promote Daoism, its understandings, beliefs and practices in the Triangle area.
A Medical Reiki Master/Teacher, Michael developed the system to augment Usui Reiki with the complex understandings of Medical QiGong. With a rich background and personal history, his goals are to teach, coach and ensure that everyone in the area has an opportunity to experience the life-transforming arts of QiGong, Taiji and Medical QiGong for better health and an Empowered Life!
Live Streaming Video
http://www.nissancommunications.com/breakingfree.php
Callers welcome: 919/518.9773