Empower
The Breaking Free Show TM:
July 15th Guest - Bob Meyer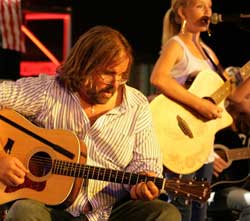 Our guest on The Breaking Free Show on Monday, July 15th is Bob Meyer, Owner/Teacher of Give To Live Guitar Studios. Bob hails from the great State of New York. He began playing guitar at the age of five with a used '65 Gibson L-5. After graduation from high school, Bob graduated from the Institute of Audio Research in New York City with an Associate's Degree in Music Engineering. Among his many teachers and mentors are Jorma Kaukonen of Jefferson Airplane and Hot Tuna. He has toured extensively with Metallica, The Rolling Stones, Van Halen, The Dave Matthews Band, Phish and The Allman Brothers.
In 1995, he moved to the Triangle and managed the guitar departments at several local music stores. Later on, he taught music. Now, he owns and operates Give To Live Guitar Studios in North Raleigh/Briar Creek and Wake Forest. In the Fall, he will be attending UNC-Wilmington where he will pursue his Master's degree in Non-Profit management! To this date, Bob and his students have played 41 concerts, with 317 songs by 152 artists in 13 different venues for 9 different charities!
Live Streaming Video
http://www.nissancommunications.com/breakingfree.php
Callers welcome: 919/518.9773