Empower
The Breaking Free Show TM:
September 16th Guest - Carol Peppe Hewitt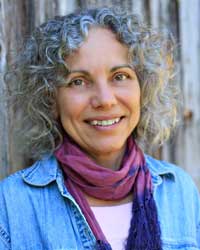 CAROL PEPPE HEWITT is an author, business owner, and social entrepreneur. Having taught and coached many small business owners, she learned firsthand how hard it for small businesses to access much needed capital. She is now working to change that by empowering ordinary people to help fill this need as a pioneer in the Slow Money movement. Since co-founding Slow Money NC (North Carolina) in 2010, she has been building resilience in local foodsheds from the coast to the mountains.
Starting with a low-interest loan to Lynette, a young baker, to purchase an industrial mixer, Carol has since catalyzed over eighty affordable loans from people who care about local farms and local foods - to thirty-five sustainable farmers and local food entrepreneurs. Her book, Financing Our Foodshed: Growing Local Food With Slow Money, is a collection of compelling, real life stories about these Slow Money entrepreneurs – the people that grow, process, distribute, and sell local food - and the folks in their community who become their lenders.
Live Streaming Video
http://www.nissancommunications.com/breakingfree.php
Callers welcome: 919/518.9773