Empower
The Breaking Free Show TM:
September 30th Guest - Megan and Barton Cutter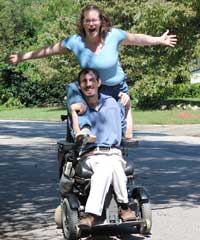 Barton is a professional coach and mentor who uses his humor and uncompromising wit to empower youth with disabilities and their families to discover a clear and powerful vision of their own independence within the community of their choosing. He combines his life experience of living with Cerebral Palsy and a professional background of youth leadership to support children and families to bring their vision to life through action steps that are both inspiring and practical.
Megan is a creative writing and expressions facilitator, using writing, visual arts, storytelling and non-verbal expression to support youth and adults of all abilities to tell their powerful story, facilitate communications within a family unit and establish community support networks. She is a writer, social media strategist and online reputational manager for organizations, small business and individuals.
Together, Barton and Megan break many barriers and assumptions through being open about their relationship, speaking locally and nationally about disability awareness, inclusionary leadership training, creating healthy relationships, relationships and disabilities, self-defense for people with disabilities and emergency preparedness.
Live Streaming Video
http://www.nissancommunications.com/breakingfree.php
Callers welcome: 919/518.9773