Empower
The Breaking Free Show TM:
August 12th Guest - Dwayne Adams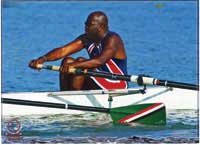 My life was almost taken away with a gunshot to the head. I spent one month in the hospital. After being released from the hospital, I started rehab and was introduced to the sport of rowing. Despite his age, and the fact that the sport is not traditional to African Americans, he began to love the sport, which loved him back with medals and accolades. Competing in singles, double, and even four man team tournaments, I earned 30-40 wins in the years to follow. This achievement record got me invited onto the Adaptive US National Team where I won a bronze medal at the 2002 World Rowing Championship in Seville, Spain.
In 2005, I started the Breaking Barriers program. This program teaches conditioning, nutrition, teamwork, respect, and disciple all by a non-traditional sport: rowing. What gets the kids is that the indoor training keeps them in shape and improves their eating habits. It's fun to them, all while they learn the sport of rowing. The parents notice this change in their kids as well as their teachers. People within the community notice, too.
The organization strives to "assist youth achieve personal growth, and foster community development through the sport of rowing." As part of its mission to help young people develop healthy attitudes and practices towards themselves and their communities, Breaking Barriers offers training in physical fitness, coupled with mentoring, team building, and community service. Students begin each session of the program with a complete conditioning course, lessons on proper nutrition, followed by indoor, then outdoor rowing sessions. Our youth not only have a gym, they also have a social club that they can come to meet other kids from different areas of their city. They can come together as part of a new mission which is an alternative lifestyle from their normal. As a result, we see less obesity, less diabetes, less crime, greater graduation rates….no flash mob required.
I'm not saying Breaking Barriers is the answer, but it's a great start and ending.
Live Streaming Video
http://www.nissancommunications.com/breakingfree.php
Callers welcome: 919/518.9773