Empower
The Breaking Free Show TM:
July 8th Guest - Kim Walnes - THE WAY OF THE HORSE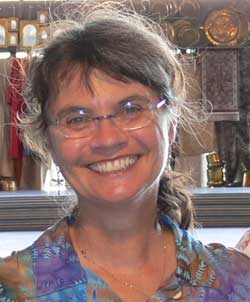 Kim Walnes competed on her legendary horse, The Gray Goose, as a member of the US Three Day Event Team from 1980-1986. They soared through the air winning hearts and awards in 6 countries and the US. In 1982 they won the National Championships at Rolex Three Day Event in Kentucky and both individual and team bronze medals at the World Three Day Event Championships in Germany. Kim was the first mother of young children to compete internationally on the US Three Day Team. She and Gray stared in Sally Swift's video, Centered Riding II, and were doubles for Melissa Gilbert and Sylvester in the 1985 movie, Sylvester. They can also be seen in the DVD, Riding for America. In 2012, Gray was inducted into the US Eventing Hall of Fame. Kim has both written and been the subject of articles for horse magazines, and has been on many of their covers.

Kim has always been an innovator—a pioneer in the competitive horse world and an advocate for compassionate interaction with the horse. She was one of the first to use non-traditional health care and training techniques with her horses. She is currently living in PA where she competes Gray's heir, her stallion Gideon Goodheart in dressage. She is also a spiritual life coach. Her greatest passion is to work with the horses as a team in equine facilitated life skills sessions, helping people rediscover and live from the truth of who they really are --and making sure they have fun along the way!
Live Streaming Video
http://www.nissancommunications.com/breakingfree.php
Callers welcome: 919/518.9773