Empower
The Breaking Free Show TM:
May 6th Guest: Larry Parent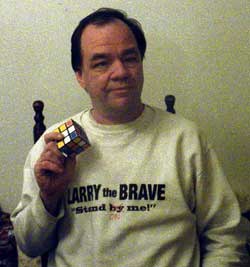 I was born in Somerset County, we lived in Kearny for awhile then moved to Laurence Harbor. I remember things from when I was 1-1/2 yrs. old or so, the first thing I remember is a flickering candle that I think was my Christening and another time being in a hospital behind a glass wall. I remember looking at things and wondering why they looked as they did but didn't know how to ask anyone. I theorize that babies are a lot smarter than we realize but lack the ability to communicate.
I was in Memorial School my early years, they thought I was smarter than everyone else and were always giving me tests but also I had some trouble fitting in and got teased frequently. "Larry the Parry" they called me (instead of Larry Parent). Nowadays I would laugh but back then it bothered me. I think I was popular but kids are kids and they show their admiration in strange ways sometimes.
I learned to say the alphabet backwards, when I was with my parents in the Bowling Alley lounge, the bartender offered me a free soda if I could do it. I fought my way through it and won the soda.. and then kept practicing so hopefully there would be more free sodas. Then it became popular and people would randomly request it to the point I would get annoyed having to do it so many times.
The schools would often bug my Mother and even the teacher would visit the house, and my biggest problem was how things affected her because when she got upset she was very dramatic. My parents were not abusive but my Mother was very emotional and distrustful of things. My Father was also being disloyal and they ended up getting divorced when I was 10. (Denise and I are together 13 years now and still going.)
High School - this is where things got crazy, some of them I got along with, others acted like they were intoxicated and would randomly push me or do unprovoked pranks or whatever. Again the school would pester my Mother, or they would separate me from the rest of the students with separate tutoring. During those times when I was away from everyone I would practice my Rubik's Cube. I got interested in that when I saw it in a Toy Store and didn't know what it was except that it was expensive ($10) but interesting. I learned the step-by-step algorithms (turn sequences) and soon I would do that to impress the girls. One of them wore high heels and I wondered if she stood on me would it hurt? but the way she greeted me with a string of curses suggested that wasn't happening. And what would get anyone to do that? They would be just...standing, and it seemed unlikely anyone would like doing it. I quit school at age 16, mainly to spare my Mother from them bothering her and got my GED at 18, and in the meantime I learned how to program computers (my other passion). I left NAHS with the assumption that I would never see any of these people again. You know what happens when you assume things!
I went to FDU after I got my GED, I majored in Business Management, but then could not get a job after college related to that, then I saw an ad in the newspaper for "File Clerk" at a place I could walk to (we had no car) and I went there, and they saw I have computer skills so they pushed me into Graphic Arts and that's what I still do now but at a different company.
Live Streaming Video
http://www.nissancommunications.com/breakingfree.php
Callers welcome: 919/518.9773