Empower
The Breaking Free Show TM:
August 26th Guest - Teal Sherer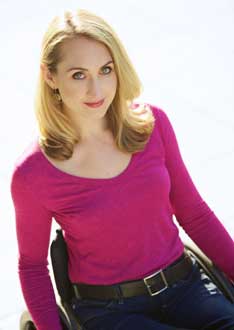 Teal is an actress, producer and advocate for the inclusion of performers with disabilities in the entertainment industry. Some of her career highlights include playing "Venom" in Felicia Day's The Guild, performing alongside Dustin Hoffman and Annette Bening in American Voices at The Broad Stage, and singing and dancing in an antique wheelchair in HBO's Emmy Award winning film Warm Springs, where she also served as an adviser to Kenneth Branagh. Currently, Teal is in pre-production for Season Two of her award-winning online comedy series My Gimpy Life, which is loosely based on the awkward situations she encounters being an actor with a disability in Hollywood. You can watch Season One here on YouTube.
"As a disability advocate, I want to share my perspective and broaden people's minds. Disabled people are out in the real world, but we're underrepresented in films and on TV. I want producers and casting people to consider disabled actors for any role, not just ones that are written as disabled characters, like teacher, best friend, scientist, or whatever. The stories don't necessarily have to revolve around disability for those characters to exist."
Live Streaming Video
http://www.nissancommunications.com/breakingfree.php
Callers welcome: 919/518.9773