Empower
The Breaking Free Show TM:
February 3rd - Michele Weiss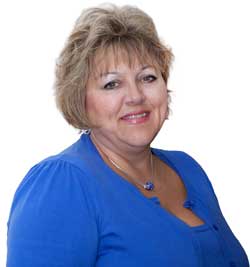 Michele Weiss is Business Development Manager for Lancaster Plumbing & Heating Inc. located in East Petersburg, Pennsylvania. Michele has led a rather interesting life that has taken her from rock n roll, to the corporate world, to the television entertainment industry. Michele was not your typical high school graduate. After landing a well-placed administrative positive with a local company, Michele felt she was not ready to join the corporate team yet. Instead, she turned her passion to music and at the age of nineteen she joined a top forty, rock/pop band called Crossroads.
Her first band was lucky enough to tour on the road for seven years and eventually Michele and her husband Tom, settled in the Lancaster area. Michele resumed her corporate career but still performed music on weekends. Life was full with raising their daughter Renee, working during the week and performing most weekends. Michele performed with several rock and jazz bands throughout the 1980's and 1990's and in 2007, "retired" from the club scene. She is extremely happy to be performing the national anthem for the Mid Atlantic League baseball team, the Lancaster Barnstormers, the local Manheim Central Baron's Football team and the Philadelphia Phillies Baseball team.
She is Vice President of her home town Zoning Hearing Board, Service Projects Chairperson for the Lancaster/Hempfield Rotary Club, member of two local American Business Women Chapters and a former resident of Great Britain. Michele is also a contributing writer for Fine Living Lancaster Magazine as well as creator, writer and host of the television show "Home Matters for Women".
The show features several segments for viewers including "Hanging with the Technician" where viewers can see what steps the technician takes when servicing their furnace or water heater. "Moe & Bean's Safety Tips of the Day" segment is announced by Michele's granddaughter, Morrison (nicknamed Moe) and her little dog Bean. A local insurance company owner offer safety tips for the viewers and tells them what can happen in your home if you do not follow safety measures when using appliances, candles or even electrical outlet strips!
Whatever Michele does, she puts her heart and soul into it. She is dedicated to bringing her "A" game every day to life and is an extremely grateful person. She has a great family, supportive friends and associates and is proud to work for a company who believes in thinking outside the box and backs her 100% on this project. Michele loves to read mystery books written by British authors, and is currently wrapping up writing her own book of short stories to be published next year entitled "Small Thoughts of a Pea-brained, Middle-aged, Woman". Life is good!
Tune in to the live show at 1 pm/EST via your smartphone or computer: www.nissancommunications.com/breakingfree/php.
Live Streaming Video
http://www.nissancommunications.com/breakingfree.php
Callers welcome: 919/518.9773