Empower
The Breaking Free Show TM:
March 3rd - Eloy Morales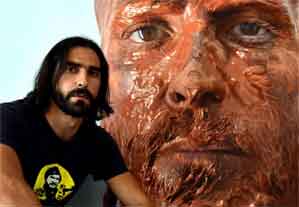 Considered to be the best "hyper-realist" painter in the world, Eloy Morales has received accolades and attention in the art world for years. Morales, who lives in Madrid, Spain, says he goes through "a weird process of love and hate with my paintings." But the fact is, most people's jaws drop when they realize that Morales paints, rather than photographs, his subjects, himself included!
Touching a psychological chord with people, his work has been featured in video, print as well as internet media and he has exhibited his work everywhere from Spain, Italy, and France, to England, Mexico, and New York. "I think the power of the image to evoke emotions and make people feel is unlimited," he says. The Spanish artist, who has been painting and making art since he was 4 years old, says he feels "liberated" when looking at his finished work. "My ambition is to continue to dedicate my live to paint every day, it was my dream since I was a child - it's my passion."


Source material: http://www.mirror.co.uk/news/world-news/pictured-eloy-morales-stunning-self-portraits-3166130#ixzz2ugNJpgHl
Tune in to the live show at 1 pm/EST via your smartphone or computer: www.nissancommunications.com/breakingfree/php.
Live Streaming Video
http://www.nissancommunications.com/breakingfree.php
Callers welcome: 919/518.9773