Empower
The Breaking Free Show TM:
March 24th - Michael Grab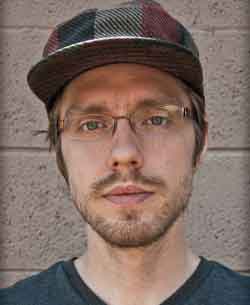 Michael Grab was born in Edmonton, Canada in 1984 and relocated to Boulder, Colorado in 2002 to attend University. He stumbled upon the art of rock balance through an unexpected spell of boredom in the summer of 2008. Since then he has gained a local reputation for designing large-scale balanced rock gardens up and down Boulder Creek, which flows through the heart of Boulder. Over the years Michael has attracted repeated visitors and sometimes small crowds while he balances and photographs creek rocks. The community response is normally very positive and many report meaningful experiences when they witness Michael's stone balance work. He plans to continue sharing the practice by performing, teaching, learning, and applying, his developing mastery of a an ancient art. Mainly to promote the benefits of creating nature art, including free artistic expression, meditative presence, and flowing with surrounding environment.
"It's a little hard to explain HOW my work and art impacts the world.. but i feel it does in one very interesting way. it destroys beliefs; dissolves cognitive boundaries between what is thought to be impossible versus possible... and hence, inspires people to think more in terms of possibility, versus limitation. another very core part of the practice is PRESENCE in the moment... and also impermanence. . . and hence gratitude..."
Tune in to the live show at 1 pm/EST via your smartphone or computer: www.nissancommunications.com/breakingfree/php.
Live Streaming Video
http://www.nissancommunications.com/breakingfree.php
Callers welcome: 919/518.9773