Empower
The Breaking Free Show TM:
May 5th - Jill Mattson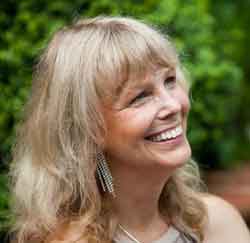 Jill Mattson is an author, artist, musician and widely recognized expert and composer in the emerging field of Sound Healing. She has written four books and produced six CD's that combine intricate Sound Healing techniques with her original Award winning musical compositions (Deep Wave Beauty CD – Best New Age CD of 2012 – Silver Award). The CD's consist of intriguing, magical tracks using ancient & modern techniques - with sound energy & special healing frequencies to achieve profound benefits. These multilayered, multidimensional, deep soulful works will uplift your heart - while offering a myriad of benefits.
Jill lectures throughout the North America on "Ancient Sounds ~ Modern Healing" taking followers on an exciting journey revealing the healing power of sound. She unveils secrets from ancient cultures as well as the latest findings of the modern scientific community showing the incredible potential and healing capabilities of sound.
Tune in to the live show at 1 pm/EST via your smartphone or computer: www.nissancommunications.com/breakingfree/php.
Live Streaming Video
http://www.nissancommunications.com/breakingfree.php
Callers welcome: 919/518.9773