Empower
The Breaking Free Show TM:
June 2nd - Sarah Hall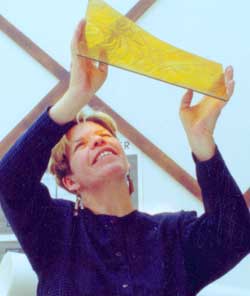 Sarah Hall is an internationally recognized artist creating large-scale art glass installations. Her exceptional contribution to the built environment has garnered numerous 'Honor Awards' from the American Institute of Architects and the 'Allied Arts Award' from the Ontario Association of Architects. Hall's artistic achievements were acknowledged by her induction into the Royal Canadian Academy of Art in 2002. In addition to lectures, exhibitions and commissions throughout North America and Europe, Hall has authored 35 published articles on glass art. Sarah has been granted an Arts Fellowship from the Chalmers Foundation to support her innovative work in solar glass installations. She is well known for her artistic innovation and pioneering of new glass techniques.
Tune in to the live show at 1 pm/EST via your smartphone or computer: www.nissancommunications.com/breakingfree/php.
Live Streaming Video
http://www.nissancommunications.com/breakingfree.php
Callers welcome: 919/518.9773