Empower
The Breaking Free Show TM:
June 9th -Tracy Baker
Living Life on my terms, with support from Spirit.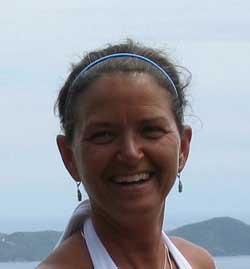 My Passion: Creating a way of life that supports a healthy mind, body and spirit while helping others along the way, shaping a healthy planet through collaboration.
Bragging Rights: Owner of the Healthy You community on G+ and Happiness Ambassador.
Quantum leaps in your current lifestyle are not a sustainable way to live in a healthy life. I believe daily practice enables us to make small positive changes that improve our quality of life and the lives of those around us. It's what my community and show are all about - helping people find what they are looking for to make healthy choices and transform their lives a little bit at a time, one choice at a time. These are Sustainable Changes. By providing a community space for conversation, we can have a real, motivational dialogue that influences the choices we make in the kitchen, at the store, with exercise, through our connection with spirit and for our planet.
A Little About Me:
I'm a woman of faith, full of gratitude and dedicated to daily personal growth. I'm living a life of abundance in the areas of happiness, prosperity, health, service and wisdom. I consider it my mission to help others find their path and reach their goals, and in turn, encourage them to pay it forward to others.
I live in Taos, New Mexico with my husband (a fantastic cowboy/surfer/sailor and all around great guy) on a solar-powered cattle ranch where we work and live as ranch hands raising grass-fed beef. I'm on a quest to know my food - who grew it, raised it and the carbon footprint of all the products I purchase.
I got involved in social media in 2012 and love learning all the different ways the internet connects like minds all around the world. It also helps me in my role as a Happiness Ambassador, to create a ripple throughout the world by spreading a message of positivity, peace, and optimism support a world with more compassion.
Blending my Work with my Passion
To fund my passion and spread my message of empowered health, I'm part of the Nerium team where I'm a successful motivator, trainer and team leader. Team building and personal development are the cornerstone of my work, and I collaborate with my team members to offer clients healthy alternatives that really make a difference in their quality of life. My favorite part of working with Nerium is helping my find their dreams, team set goals and supporting their efforts every step of the way.
In my free time, I enjoy being outdoors hiking, biking, gardening and dancing with Hubby. Reading is also one of my passions. I love books like Harry Potter, Atlas Shrugged and the Happiness Advantage.
If your are interested in living a healthier life or searching for more meaning, get in touch with me about the Healthy You community or about my work with Nerium. I would love to connect! Here are the easiest ways to reach me: PM me here on the Plus or BakerTracy12@gmail.com
Tune in to the live show at 1 pm/EST via your smartphone or computer: www.nissancommunications.com/breakingfree/php.
Live Streaming Video
http://www.nissancommunications.com/breakingfree.php
Callers welcome: 919/518.9773