Empower
The Breaking Free Show TM:
September 15th - Tim Duffy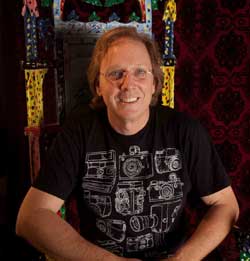 Tim Duffy knew from an early age that he wanted to go out into the world and meet artists like Doc Watson and Etta Baker. When he entered Warren Wilson College in Swannanoa, North Carolina, Tim was thrilled to join the Appalachian Music Crew, documenting local musicians. Tim has been seeking out musicians performing traditional music ever since. He records them, talks with them, photographs them, and learns their stories.

As a college student, Tim moved to Kenya, where he found friends in the traditionally tight knit Old Town section of Mombasa, and learned the harshness of poverty. "I became acutely aware of how tough it could be, and how not everyone could live their dream," says Tim. When he returned to Kenya after several months Stateside, he brought with him future wife Denise Durocher. They would move from Kenya to North Carolina after nine months, where the Music Maker Relief Foundation (MMRF) began.
While Denise worked in Winston-Salem, Tim entered the Curriculum of Folklore at the University of North Carolina at Chapel Hill. It was there that he met bluesman James "Guitar Slim" Stephens of Greensboro and spent the next year learning blues guitar and being introduced to musicians in the area. When Slim was dying of cancer, he asked Tim to find his friend Guitar Gabriel. Tim had no luck until one day, during a substitute teaching job, a student said Gabe was her neighbor.
"I got out of the car as Gabe was walking up to his porch. He took one look at me and said 'Where you been so long? I know where you want to go. I've been there before and I can take you there. I'm an old man and my time is not long, when I die I want you to promise to bury me with my guitar.'" – Tim Duffy
After finding Gabe, Tim began to record him and many new musicians he was introduced to. A small grant from the NC Folk Arts Council helped him document artists such as Macavine Hayes, Mr. Q, Willa Mae Buckner, Guitar Gabriel and Captain Luke. Tim got gigs at clubs around North Carolina. He couldn't afford long-distance phone calls, so he mailed hundreds of postcards to talent buyers around the world, landing festival gigs in Europe for these authentic musicians. They became his closest friends – they all had stories and every story was different. Besides their love of music, they shared the constant struggle to make ends meet.
Tim became deeply disturbed by the difficult choices these artists had to make each month: food or medicine, rent or gas, heat or the telephone. Tim dedicated himself to finding a way to help these artists, and the many others that he would meet in the coming years.
Tune in to the live show at 1 pm/EST via your smartphone or computer: www.nissancommunications.com/breakingfree/php.
Live Streaming Video
http://www.nissancommunications.com/breakingfree.php
Callers welcome: 919/518.9773