Empower
The Breaking Free Show TM:
November 10th - Kornelius Bascombe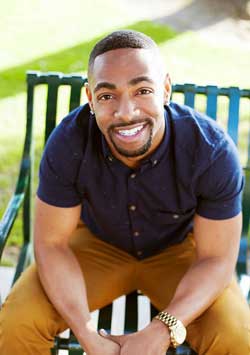 This is Kornelius Bascombe, our guest for The Breaking Free Show on Monday. Two photos attached. Both are great. Check out that smile of his! J
Energy, compassion, and resilience are the driving forces behind multi-talented Kornelius Bascombe's desire to become the next TV star and are the impetuses for this shining star's bright future in front of the camera.
Currently, Kornelius is the main Improv actor, and host of CBS' Emmy winning series Undercover Boss. Kornelius traveled to over 40 states, spending at least one week working with each major company for the series.
Kornelius started his on-camera career as a fan and producer(s) favorite as a contestant in the Oprah Winfrey Network's "Your OWN Show" competition garnering an astonishing 5.9 million votes worldwide, and placing 4th in the competition. Since the competition, Bascombe has been frequently featured on the both the Oprah Winfrey Network and the OWN website.
Following Bascombe's success in the OWN competition, he gained more on-camera experience by launching a successful television talk show on his college's premiere television network, linking students and faculty together for memorable experiences. This television program quickly became the highest rated shows on the college TV network.
In the spring of 2011, Bascombe beat out hundreds of applicants nationwide to become the host of Time Warner Cable's first original talk show series Born To Shine. The programs main purpose was to create diverse original content spotlighting African-Americans who are paving the way in entertainment. Bascombe interviewed director and writer, Robert Townsend, singer Estelle, celebrity chef Marcus Samuelsson and actor Mekhi Phifer along with others.
To date, Kornelius has hosted over 75 different live events, with audience sizes ranging from 50 to 20,000 people. In addition, Kornelius has launched his own Interactive website, TheeKornerStore.com. and YouTube channel.
Kornelius continues to touch lives through community service and mentoring with his fraternity, Alpha Phi Alpha Fraternity, Inc
Tune in to the live show at 1 pm/EST via your smartphone or computer: www.nissancommunications.com/breakingfree/php.
Live Streaming Video
http://www.nissancommunications.com/breakingfree.php
Callers welcome: 919/518.9773