Empower
The Breaking Free Show TM:
June 15th - Dr. Bahby Banks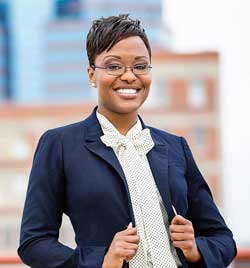 Are you an entrepreneur? Our guest on the Monday, June 15, 2015 Breaking Free Show is and she's ready to share her story with us.
Dr. Bahby Banks is a widely sought after motivational speaker and program evaluation consultant residing in Durham, North Carolina. Her professional experiences have afforded her the opportunity to work on a variety of federal, state and local initiatives, as well as efforts with non-profit organizations in Europe, South America and Africa.
Her contributions include research conducted at the World Health Organization, Fundação Oswaldo Cruz, Instituto Promundo and prestigious universities in the United States. Dr. Banks has presented her work at scientific meetings in Mexico and Australia and has also consulted on projects in Argentina and Malawi.
As owner of Pillar Consulting, LLC, Dr. Banks continues to work with non-profit organizations to guide inquiry, build capacity and assess effectiveness of their programs.
Join us for a fascinating glimpse into the life of one entrepreneur who is making her dream happen every day.
Tune in here: www.nissancommunications.com.
Callers welcome: 919/518-9773 or via skype voice: computers2voice
Watch a recording of the show here or click the show below to begin listening/watching:
Live Streaming Video
http://www.nissancommunications.com/breakingfree.php
Callers welcome: 919/518.9773