Empower
The Breaking Free Show TM:
January 6th topic - Tawanda and Robert Jones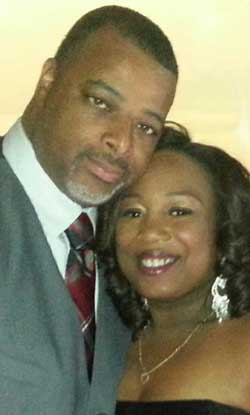 Tawanda "Wawa" Jones and her husband Robert "Bam" Jones were born and raised in Camden, NJ, spending most of their lives in the city except for the years when the high school sweethearts both attended Livingstone College in North Carolina. Today, the couple are involved in a number of charitable endeavors, including helping developmentally disabled children learn fine motor skills and a nationally recognized drill team known as the Camden Sophisticated Sisters that has helped guide the lives of thousands of Camden youngsters during the past 27 years.
Tawanda Jones, affectionately known as "Wawa" is a 2013 CNN Top 10 Hero, she founded the Sophisticated Sisters when she was fifteen, wanting to do something to help uplift her community and give Camden's youth a meaningful after school program. Her love of performing led her to establish a marching band, which later became the Sophisticated Sisters of Camden. That was 27 years ago, and she's still at it every day.
Robert aka Bam joined Wawa in the early years of the organization, and has since served as the leader of the men's branch of the group – The Almighty Percussion Sound Drum line (TAPS). Since the Sophisticated Sisters were founded in 1986, Wawa and Bam have helped train more than 4,000 students, all of who graduated high school and 80% of who went on to higher education. That's because Wawa establishes and enforces rigorous standards, and every kid who joins the program must do 200 hours of community service each year and promise to complete their schooling. But promises aren't enough, so Wawa, Bam, and their entire team, work to individually mentor and monitor each student to make sure they get the job done.
Live Streaming Video
http://www.nissancommunications.com/breakingfree.php
Callers welcome: 919/518.9773