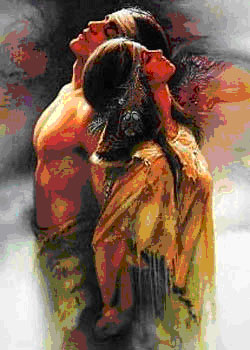 Your face is so beautiful and divine
That when your eyes look deeply into mine
We merge and disappear into one thing combined
And then what was us becomes everything that ever is and was
Both in and out of Time.

---------------------------------------------------------------------------
I have written in one form or another all of my life. Writing is just like conversation for me. It can be anything from just having fun, to working out a serious problem. It can be a way for me to enjoy my leisure time, to a way to work through trauma. It is how my mind processes things. Whatever I can't talk about I can write about.
I am currently very involved with the love of poetry. I am about to open a poetry web site. As a survivor of childhood and domestic abuse, my dream is that my poetry will be beneficial in helping other survivors to heal. My poetry also reflects my love of all things spiritual.
Born to two journalists and creative writers, I grew up in beautiful tropical Miami until the age of 12,when I moved to New York City to study on a scholarship with the New York City Ballet School. Whilst there, I attended the Professional Children's School for academic study. I danced in New York until the death of my father and George Balanchine, the company's founder. Peter Martin took over, yet I was very distraught. I chose to follow a former NYC Ballet dancer (and my personal coach) to Fort Worth Ballet, where the NYC Ballet was starting a Satellite company. It was a wonderful experience.
It seemed I was born with a fascination with spirituality. From the age of three, I remember writing letters to God. Brought up in an Anglican family, God was not an important item on the list…but I seemed to be just fascinated anyway. By third grade I was working my way through the Bible a second time. Then, at 17, I discovered yoga. I believe that we are spiritual beings having a human experience, not humans that will one day maybe become a spirit. In other words, this world and all its experiences are like a school for us. What we learn here is vital. It is very important that we take away as much that is positive as we can. Surviving the negative events we cannot control and using them for a positive purpose is part of our training for what comes next.

Eventually, my personal interests in spiritual studies led me to Florida State University, where I completed both my BA and my MA in World Religions. My Master's degree focused on Eastern religious studies. I taught both at FSU and at Pensacola Junior College in World Religions, Eastern Philosophy and Logic Classes and Death and Dying.
Poetry can heal the poet by helping them get their feelings out and down on paper. I also think it can help the reader to heal by giving them the insights of another person. Both the ups and downs they have been through, the shared thoughts and feelings, can help us feel less alone; for example, when we feel as though we are the only ones going through trauma. This isolation makes the trauma worse. So sharing our experiences through poetry and other methods brings us a sense that we have brothers and sisters that know how we feel and who can also offer us solutions to get us out of the pain. Poetry, as well as other arts and methods, can become a way to recovery and survival from abuse and trauma. I hope that is what my work will contribute to.


— — —
Written by Katherine Burns