I'm welcoming gray hair these days and have been putting more time in between highlights. Just last week I told my hair stylist I'm going to let it grow out and see if I like my new shades of gray and silver.
I am enjoying time with just me on a Saturday night, at the neighborhood pool with a book in tow, at the movies or lunch at a favorite restaurant.
I love my long walks with my dog Gillian, and my time with Shadow, my cat, spread out in several directions on my lap as I watch a movie.
I love the work I do on behalf of seniors, their families, and my team of dedicated individuals who care for them and do the biggest job of all.
I love my time with my teenage daughter, who brings me more joy than anything I've ever known.
I love my changing body, menopause and droopy body parts. They are simply resting in peace, I like to think, without being pushed up or strapped down.
I love my past, which includes three marriages. I definitely believe in it!
I speak with forgiveness now of the times I was raped; once in college and once in a previous relationship. I also hold a greater hope for humanity.
I'm excited about my future, supporting my daughter through middle school, high school and college, watching her grow into a beautiful and caring young woman, while I write my first book and experience life in Europe.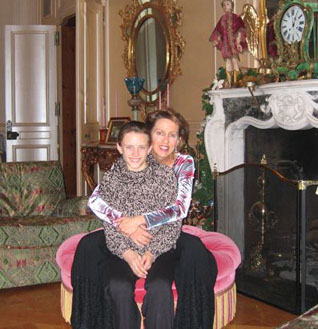 I'm feeling comfortable in my own skin in a way I never have before, other than possibly from the age of 1-7. I'm feeling freer than ever to feel the feelings I feel, say the things I want to say, look the way I look and dream bigger than I've ever dreamt before.
Like everyone, I've endured pain, mine beginning at the age of 11, when my beautiful and loving mother passed away. She was 39. I was blessed with a mother who cared for her children more than anything. With that kind of start in life, albeit short-lived, it was enough. It allowed me to venture out, take risks and come out on the other side still believing in myself, no matter what choices I made - the good, the bad and the ugly. Today, feeling more alive than ever, I feel the kind of freedom I've longed for, for years.
When I speak of freedom, I do so in a slightly different context than might perhaps be expected; I'm talking about the kind of freedom that comes from resilience. Resilience is the ability to bounce from event to event in life without wear and tear, flexibility with change, viewing challenges as opportunities, and feeling in control of your emotions. Resilience brings inner strength and confidence. In a sense, it's like getting your old self back and life becoming what it was meant to be; an adventure and a blank slate on which to paint the picture of your own life in the colors and textures you love most. It brings great enjoyment for all aspects of life: parenting (including the teen years); aging; working; healing and growing relationships; remembering your past; and creating your future.
I have read that resilience is a factor that corresponds highly to one's success in life, yet so many of us are losing ground due to the stressful lives we lead. Our children are becoming less resilient, which can result in poor performance at school and home, difficult relationships, diminishing health and low self-esteem. Resilience is like your immune system. A strong immune system protects you from illness and disease, resilience protects you from losing your cool, allowing for clarity when you might otherwise feel overwhelmed and confused. It also allows you to stay focused and to persevere when the going gets tough. It keeps you operating fully and at your very best.
As I feel myself moving toward more freedom in my life, I experience more positive feelings like joy, compassion, love and kindness. I feel a growing sense of resilience and greater sense of control in my life and of my life, knowing that whatever comes my way I can meet it with grace, my very best, and love in my heart.
These heightened positive feelings bring me more positive experiences, which in turn bring more freedom and then more positive feelings and experiences - a virtual cycle, one good thing creating another. I notice that, regardless of what is going on, I can more often generate a very positive feeling, like love and compassion, and see a positive aspect and opportunity.
Recently, I met Reverend Michael Beckwith from The Secret. We held hands and recited one of my favorite lines that he spoke in the movie: "The Universe will correspond to the nature of your song." As my song becomes joyful and hopeful and I become more resilient, I believe I am able to move to a higher level of living, impacting others around me for the better and creating more than I ever have thought possible - more joy, grace, love and freedom.
It is time to be free. Together I believe we can join hearts, minds and hands and create the solutions to all that ails us today. I know we are on course to create world peace and a thriving planet and, as we join together, one free spirit with another, solutions will become crystal clear and the universe will correspond to the healing nature of our song.
As we re-enchant our whole selves we re-enchant our whole planet. Let freedom ring.
— — —
Written by Laurie Levin