The Path of the Artist: It's the Hard Things That Make Us Pay Attention
Hello, my name is Randy Boni and I am an artist. My tool is a chainsaw. Yes, a chainsaw. When it comes down to it, I am a pretty shy and humble person. I'll be honest: it doesn't come naturally to talk about myself. However, to know me means that you'll soon come to learn that a lot of people consider me one of the most proficient chainsaw artists in America. It took me a while to figure out what my passion is, but once I discovered it I realized that I had found my spiritual home. This is my story.
I grew up in Ridgeway, Pennsylvania, which is located near the Allegheny National Forest. It's a beautiful and peaceful place to be and it still is. I am one of 6 children and we're all artists in one way or another. Our parents knew when we were very young that we were artists. They encouraged us in that direction by entering us in local art shows. Eventually, I sent a drawing to the art school in Pittsburgh and was accepted. For some reason I did not go but my twin brother Rick decided to go. As a young man, I just could not figure out what I wanted to do, and it took me a long time until I found my passion and began living it.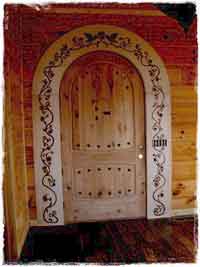 Like a lot of people, my choices - some call them "forks in the road" - could have taken me in many different directions over the years. But for me, it wasn't until I was 38 years old that my life really started in earnest.
My twin brother and I were born with a hereditary condition known as cataracts. We were legally blind, and could not see well enough to play ball, or fit in all that well with sport endeavors, although, we sure tried. All of us kids went to Catholic school until ninth grade, then we attended public school. Gym, art, and woodshop were my favorite classes." I've always enjoyed using my hands whether it was drawing, spinning clay, carving soap, anything to create dimensional form. Surgery on both eyes, allowed me to see for the first time when I was in my late 30s.
As a kid, I remember friends telling me about the power lines that ran across the local water dam and I could never see them. People were astonished when they asked me, "You mean you can't see that cable?'" I had to say "no." I couldn't even see that a leaf had veins, or flowers had individual petals! How could I see a cable? I made it a point to go to that place, to see those cables after my surgery. And I finally saw what people had been telling me. I cried when I saw those wires. I was amazed to be able to see the detail of bark on trees. I can see now, and I know how fortunate I really am. That surgery changed my life.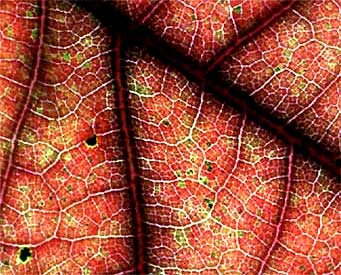 You know, it's the hard things that make us pay attention. When I was younger I worked at Weyerhaeuser Company and really liked working with the wood and learning. I worked my way up the ladder and into management and thought I had my path laid out. When they decided to shut the mill down I was crushed and unsure of what I would do. During the time I was unemployed I started fooling around with some wood carving and felt a deep sense of relief. It goes to show you that our paths are not always directed by positive things. Like I said: It's the hard things that make us sit up and pay Attention - that's attention spelled with a capital "A."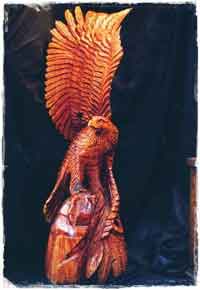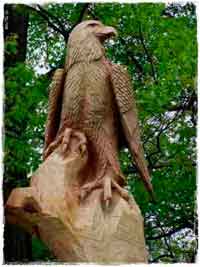 Now you can't grow up near a national forest and not experience wildlife. As you might imagine, I had many opportunities to watch many different plants and animals such as deer, bear, red tailed hawks, palliated wood peckers and elk. Of course, I also grew up in the company of trees. I'm not sure why, but I have worked with wood in some way for my entire work life. I have a deep respect for trees, conservation, proper forest management, and safeguarding nature, not destroying it. If a tree is dying or has to be taken down, I feel I'm preserving some remembrance of the tree with my carvings. I always use trees that have been removed by tree trimmers or have to come down. There are few materials that have the natural beauty of wood. It's so workable and still has a strength about it, which I'm drawn to time and time again.
One day a high school student asked me to help her carve a totem pole for a school project. After that I wanted my own totem and had heard of a fellow carving with a chainsaw. I had to see for myself. I went to see the carver and was hooked right from the start. I went home and started carving my own totem pole!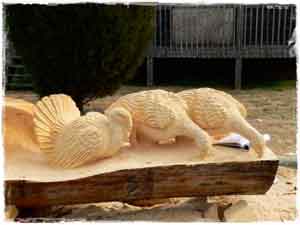 It takes a few years to gain experience as a carver and learn the tools and what they can and can't do. After you gain your confidence and can carve a variety of things then comes the Art of it, what do I do with these tools. Do I carve the same bear over and over again? It's the true agony of it, what do I make with these skills? I have found that when I start combining the things I have learned that I can add the Tree to the Owl and put this animal over here and make this one looking at that one and a squirrel running out the back and add a branch on the Tree and put two more baby owls in a hole in the tree, and on and on. It's like compiled information that you can keep incorporating into original carvings or at least as original as it gets. If I really think about, a symbol for this art form is the Chinese image known as "yin and yang." It is a symbol of balance of positive and negative. Creating positive and negative space in the carvings is the simplest yet most challenging aspect of my art form.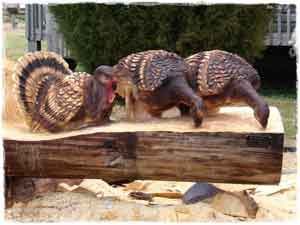 Like most artists and creators, my story starts from within. Have you ever really thought about where inspiration comes from? It may seem like it comes from within, but does it really? Some people think so, but I usually get inspired by friends who have been inspired by friends. Coming from a creative family, I find much inspiration from talking and being with other creative people. I stay connected with other artists because most times, I find that they are spiritual, which I think is a natural path of the artist. Of course, I am also inspired by nature and there is no difference: inspiration is inspiration wherever it comes form. I also stay in touch with many fellow chainsaw artists and they inspire me when I see them growing with the art form.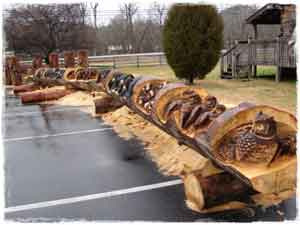 I'm very happy with who I am and with what I am able to create in this world. I truly love what I do and hope to work until I am old and can no longer raise my chainsaw! It brings me great joy to do what I do. In fact, at night, I don't pray for money; I pray for more work to come my way. I've built my life on creative expression and it's in my blood. I can't help it, especially once you meet my family. Sometimes, in this life there's no changing who you are, especially who you are on the inside...and for me, I'm an artist.
*Note: If you would like to see some of Boni's landmarks, you can't miss them. They can be found peeking out of corners and standing in front of majestic homes all over the country offering lasting impressions to those with a keen eye. If traveling is not possible, visit web site: abundance-acres.com, to view his peaceful creations nestled into their tranquil settings. "I love what I do. I leave something behind when I'm gone; I leave my mark - if you will," said Boni, as he carefully carves and crafts his legacy one landmark at a time.
Leaf Photo Source: http://www.backyardnature.net/leafvein.htm
Other photographs courtesy of Randy Boni: www.abundance-acres.com
http://www.craftsmanshipmuseum.com/Boni.htm
———